COMMUNITY
LEADERS

---
"At Metropolitan, we believe that to lead, we must serve. We know from experience that serving makes those we serve and us stronger."- Ric Estrada, Metropolitan Family Services CEO

THE LIVING ROOM
AT METROPOLITAN SOUTHWEST
"We are here to help be a supportive resource, increase accessibility for people, and break barriers to services."Ruaa Jaber, Program Supervisor
LEADERSHIP IN ACTION
» "The Living Room is a unique program and relatively a new concept for many people; it is essential that we develop and build relationships with community partners in order to educate other providers and community members and deliver this resource effectively."
Ruaa works with local police departments, hospitals and emergency departments, community colleges, libraries, and other community centers and social services agencies. "The objective is that the more people we reach and educate, the more proactive we are in addressing community needs and preventing the escalation of symptoms and problems," she says.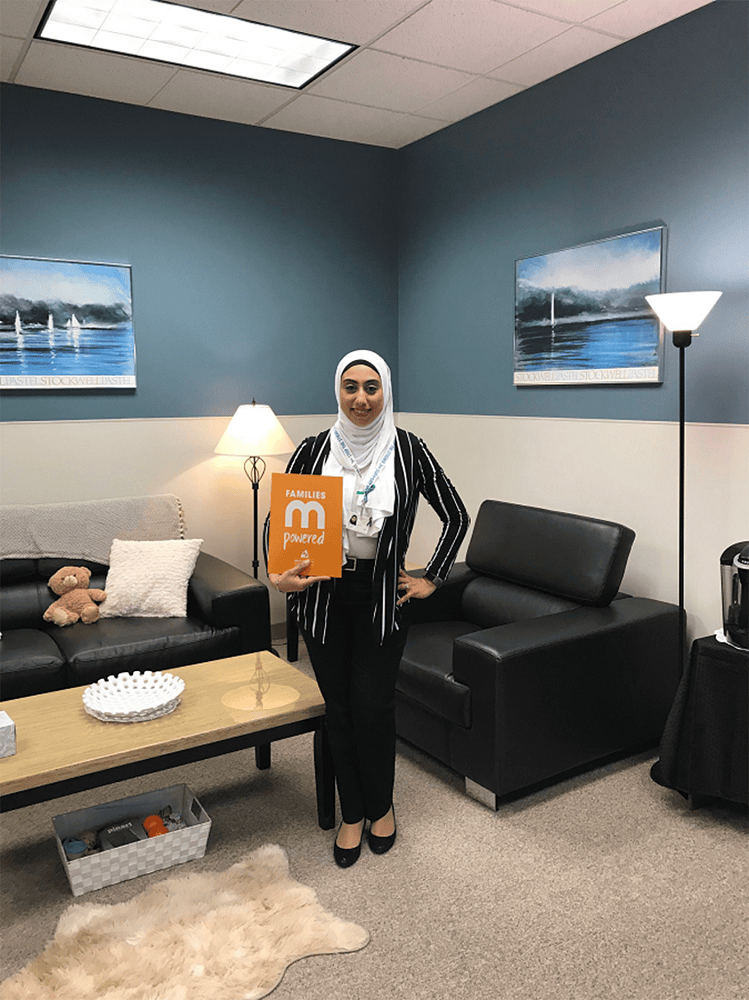 "They're warm, they're friendly … they treat you like you're a person. Everybody is somebody."
John works consistently in counseling through Metropolitan's Adult Mental Health program to achieve and maintain stability in his life. When he's having a rough day, he has a place to regain his focus: the Living Room. Peer Support Specialists talk with guests like John in the moment about whatever is going on, relying on their own lived mental health experiences.

METROPOLITAN CALUMET
AND CHICAGO POLICE DEPARTMENT'S 5TH DISTRICT
"Our support for Chicago Police is just as important as their support for us. Collaboration is key in building strong, empowered communities."Quincy Roseborough,Community Development Coordinator
LEADERSHIP IN ACTION
» Police Appreciation Day: Chicago Police Department's 5th District experienced the loss of several officers from suicide in the line of duty this year. As a proud partner of CPD's 5th District, Metropolitan Calumet collaborated with Chicago CRED.

» Child Abuse Prevention Month: Metropolitan Calumet and Altgeld Gardens site staff collaborated with CPD's 5th District for a series of events and activities to engage the community.

YOUNG FATHERS
AND THE BARBER WHO HELPS THEM PRESENT THEMSELVES
"They give you the opportunity to put a suit on, to dress up and get a decent haircut, get a job … all you gotta do is keep that job. It gives them an opportunity to really be something."Sunni Powell,Powell's Barber Shop
As a business owner in Englewood, Sunni Powell understands the impact a role model like Case Manager Nathan Wright and a program like Metropolitan's Gerst Family Young Fathers Program can make. As a barber, he understands the way a haircut helps our dads present their best selves to the world as they work to find employment.
LEADERSHIP IN ACTION
» "A lot of people do a lot of posturing. [Young Fathers] is the only program that actually offers what these kids need."
The follow-through inherent in the partnership attracted Sunni to the program.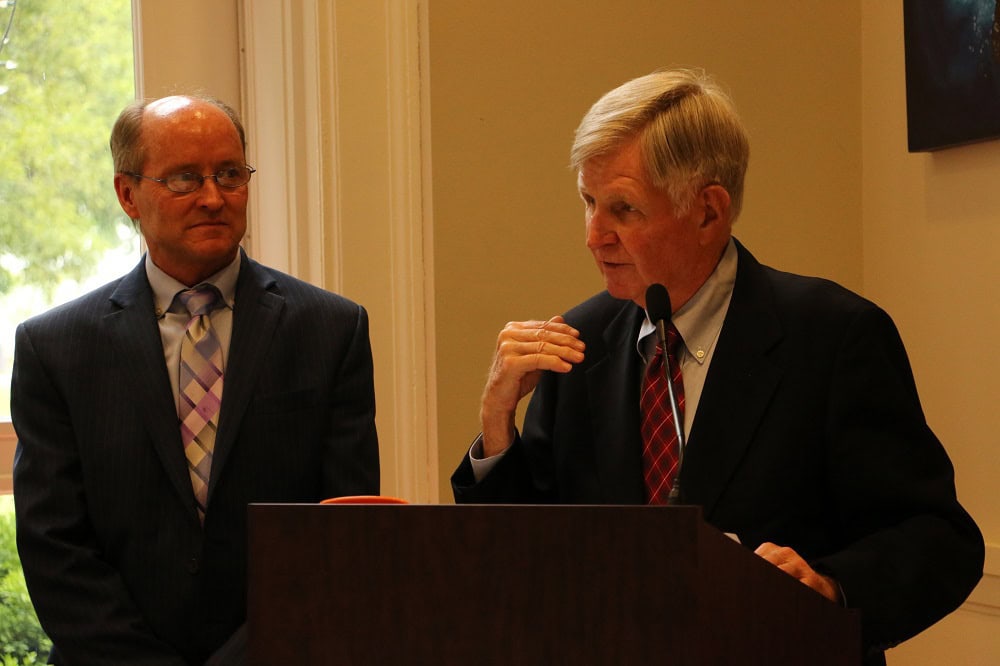 "I never really thought about being a father until I was one. It's made a great deal of difference to me. It gave my life meaning that wasn't there before. Being a father is something extremely important to me, and it's the reason why I chose this program of all the programs that Metropolitan has to support."

"Having this business, I can employ other black men, beautify the neighborhood, be an example of what a good man is."
– Sunni Powell, Powell's Barber Shop

GIGIO'S PIZZERIA AND METROPOLITAN EVANSTON/SKOKIE

Evanston's oldest pizzeria partners with one of its oldest social service agencies to Mpower families in the community! For the second year, Gigio's Pizzeria ran a month-long promotion, donating $2 for every extra large pizza to Metropolitan's Family Support & Prevention Program, which helps families develop the tools they need to effectively parent their children and enhance family functioning.
---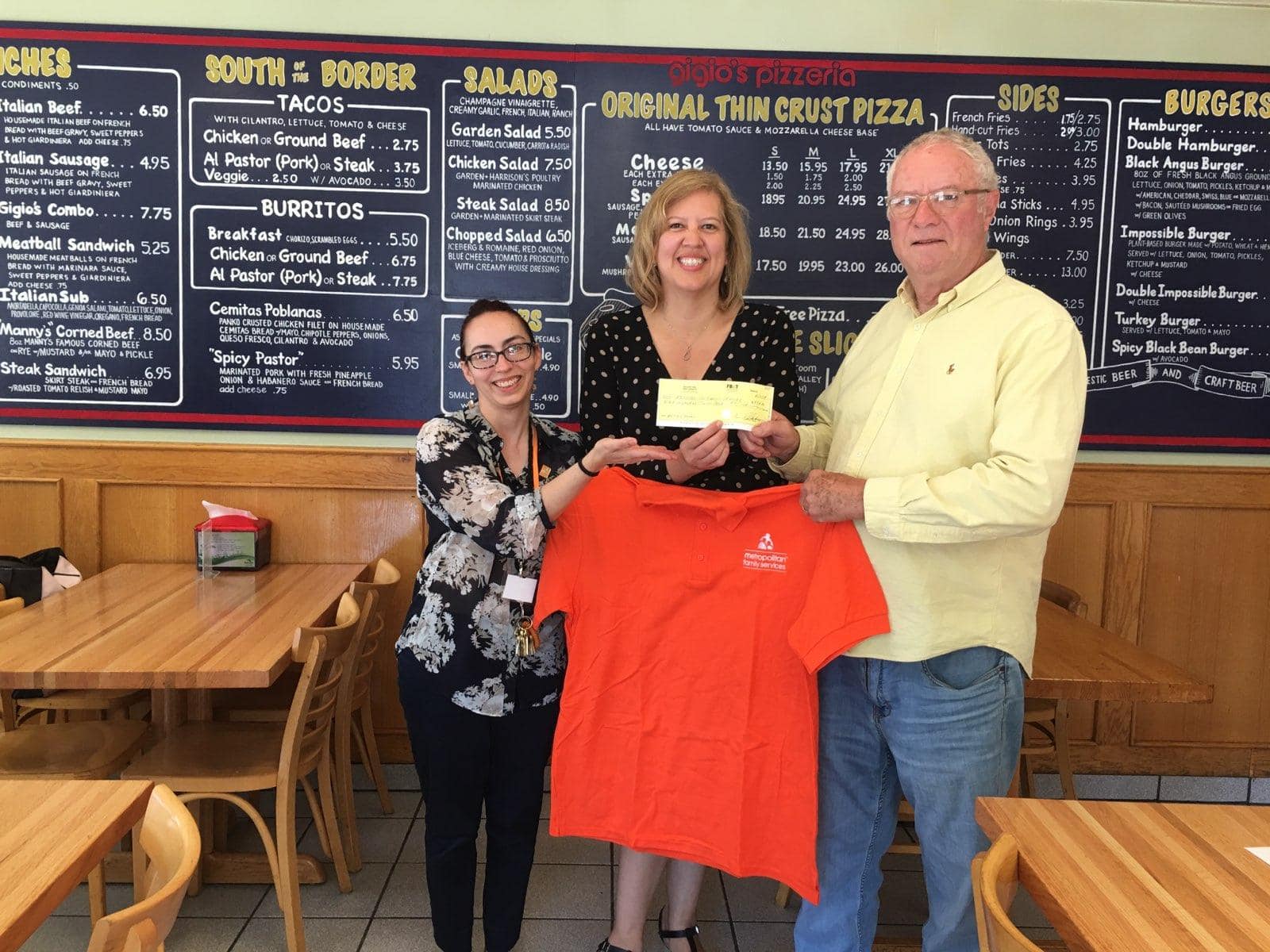 AN EXTRA LARGE DIFFERENCE
Our Parenting Fundamentals program led the cheesy charge by ordering pizzas for its classes.

Metropolitan
Family
Services

---

Part mentor, part motivator, part advocate, since 1857 Metropolitan Family Services has been the engine of change that Mpowers families to reach their greatest potential and positively impact their communities.
---