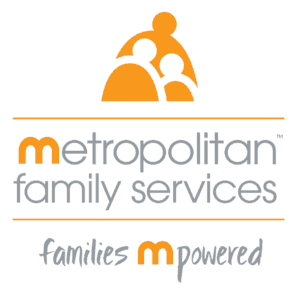 CELEBRATING
INTENTIONAL
LEADERSHIP

What is leadership?
It is the quality that inspires us to step up and make positive change. At Metropolitan, we believe that leading and serving are one and the same. We know from experience that serving empowers those we serve and makes our communities stronger.
MORE FROM CEO RIC ESTRADA & BOARD CHAIR MIKE VARDAS
Metropolitan
Family
Services

---

Part mentor, part motivator, part advocate, since 1857 Metropolitan Family Services has been the engine of change that Mpowers families to reach their greatest potential and positively impact their communities.
---
earned in merit scholarships
decreased barriers to accessing behavioral health care
supported by Domestic Violence counseling & court advocacy services
TOGETHER WE mPOWER
---

WE ARE ALL LEADERS.

---

---
Our supporters lead our organization's efforts to Mpower lives. Every contribution to Metropolitan Family SErvices makes in impact for the individuals, families, and communities we serve.
Together we Mpower.
---
OUR SUPPORTERS