DOMESTIC
VIOLENCE

---
"[Domestic violence survivors] have seen the worst of humanity in their abuser. They deserve to see the best of humanity in us." - Judie Caribeaux, Senior Director of Strategy and Innovation, Metropolitan Family Services
A CONTINUUM OF SUPPORTIVE SERVICES FOR DOMESTIC VIOLENCE SURVIVORS
Metropolitan Family Services DuPage merges with Family Shelter Service
The demand for domestic violence services continues to outpace capacity in DuPage County. We're seeing increasing intersections between domestic violence and other social issues such as education, mental health, addiction and physical health, requiring a coordinated response. As part of our goal in better serving our community's ever-changing needs and increasing complexity, the newly merged Family Shelter Service of Metropolitan Family Services DuPage (FSS of MFSD) shifts the coordination of services where it belongs – on Metropolitan, and not our families. LEARN MORE ABOUT FSS OF MFSD

"It's about collectively doing more than we can do individually."
Family Shelter Service Executive Director Judie Caribeaux transitions to Metropolitan as Senior Director of Strategy and Innovation.
"[Domestic violence survivors] have a unique struggle. We're always challenging ourselves to think about how to make that process easier."
Amy Milligan, Director of Safer Communities at Family Shelter Service, now oversees DV programming across Metropolitan as Domestic Violence Services Director.

"We need to walk the talk. How are we going to live what we say we're going to live?"
Judie Caribeaux,Senior Director of Strategy and Innovation
"Being authentic is important," says Judie Caribeaux, in parlaying her previous experience to her new role. Judie now supervises Metropolitan's Behavioral Health, Workforce Development, Domestic Violence, and Early Learning programming. She says soft skills – leadership, honesty – are integral to her role, especially as she works to bring these programs together under open dialogue.
Our identity as an organization will lie in our shared values and our consistency across the agency, Judie says. Strategically growing our service delivery will lie in our ability to creatively adapt our values into the diverse programming Metropolitan offers; as Judie shares, "the uniqueness of each community and family is important to preserve."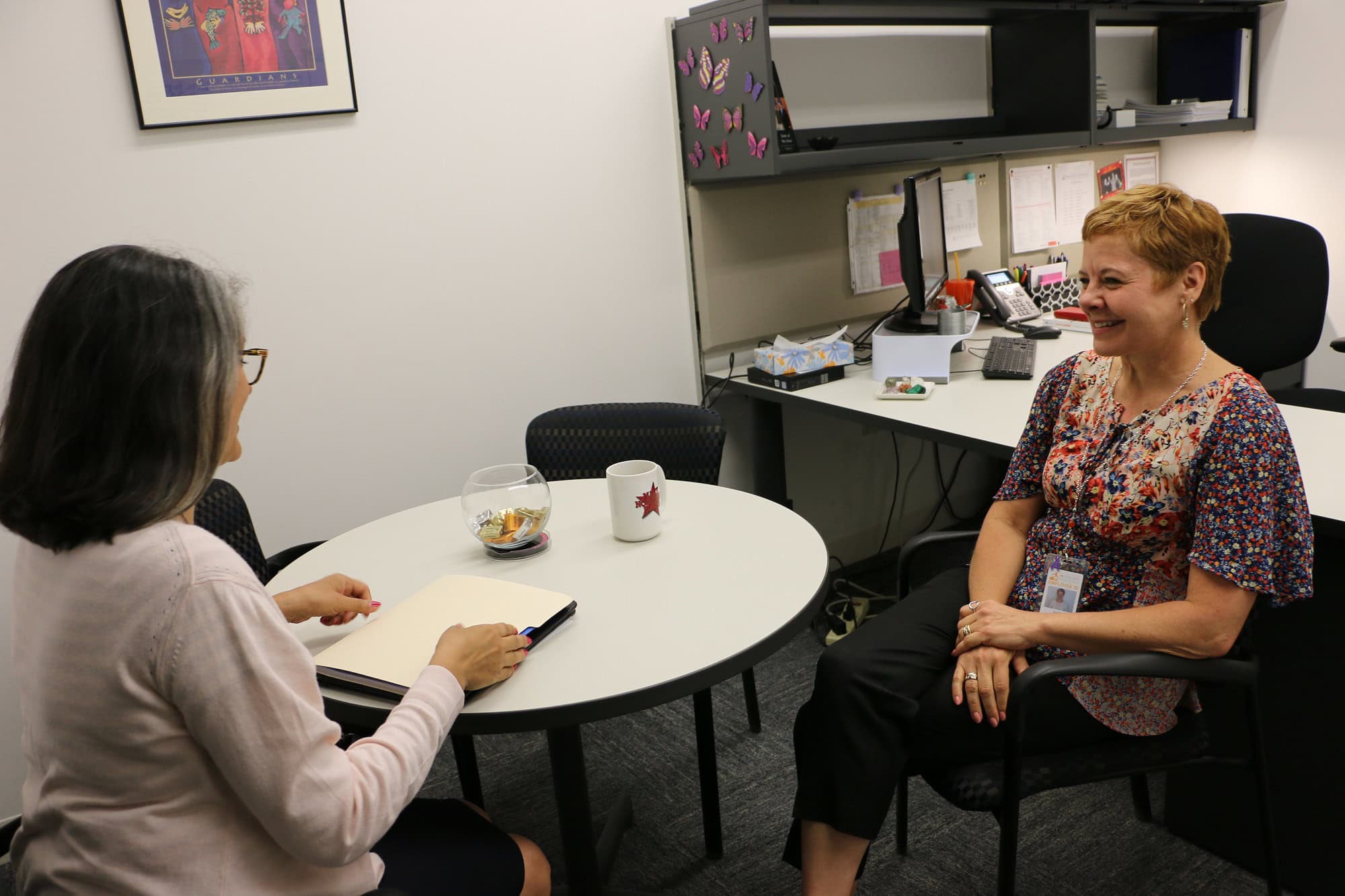 LEADERSHIP IN ACTION
» "How can we support the whole family? How can we find them a new normal?" In her work to develop open lines of communication among the program areas she oversees, Judie is positioning Metropolitan to offer stronger holistic support and care coordination for our families. "Instead of referring people to other services," she says, "let's bring a team of specialists to them."

» "If we expect it of our clients, we have to be willing to do it ourselves." Judie sees parallels between client and staff perspectives as central to her work: understanding clients' experiences to let those experiences inform our services, developing trust with staff and clients, and creating safe spaces to have the difficult conversations often required to move forward meaningfully.

What does empowerment mean to you?
"I don't think we empower other people, that's the struggle – being able to recognize the power and value we have. Our value, ability to have impact on others, is our power to own, and we need to embrace that, encouraging people to own their own experience, their own power, the fear that comes with it. We can't do it for them, but we can create that environment."
Judie Caribeaux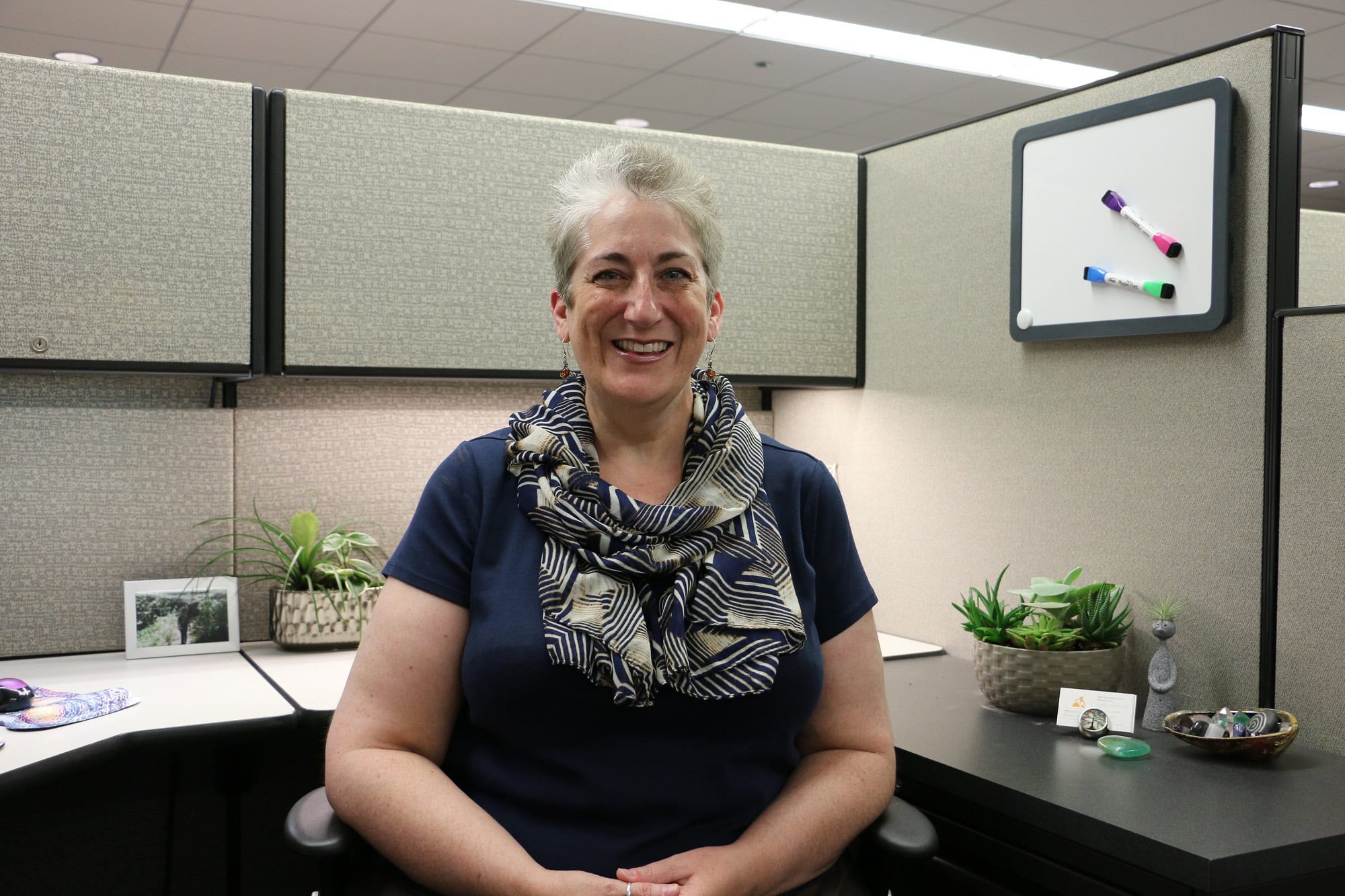 LEADERSHIP IN ACTION
» "It's an interesting opportunity to provide a wide range of services that are accessible, excellent, and responsive."Amy continues to encounter nuances - "sometimes complementary, sometimes challenging" - across Metropolitan's DV offerings, from differences in court advocacy in Chicago and DuPage, to degrees of confidentiality requirements. She aims to preserve and encourage each location's strengths, and do so by "working from the same set of values."

» "It's constant constant constant barriers [for survivors]. We can make it better, easier to navigate the systems that are supposed to be helping them."That's why it's critical for staff to consider the journey of their clients, she shares. That means removing barriers: generating options, developing easier access to resources, bridging gaps in the community with partnerships. "It's a constant process of what else could we be doing to increase accessibility."

"No matter where a domestic violence survivor connects with us, we want to make sure we're maximizing people's access."
Amy Milligan,Domestic Violence Services Director
Amy Milligan has worked with nearly every program at Family Shelter Service. She says it set her up well for her role overseeing domestic violence services at Metropolitan, in which she'll develop and grow domestic violence programs and help staff across the agency find creative ways to work together.
"I'm trying not to come in with a lot of preconceived notions," Amy says, preferring to listen and learn about Metropolitan's diversity of programs, to compare how different sites are delivering services. In communicating openly, she'll work toward consistency across our domestic violence programs and further integrate our DV services into other programming across the agency.


"We have to work at least as hard as they are."
It takes four hours to travel via public transportation from the FSS of MFSD shelter to the Domestic Violence Court in DuPage. Four hours one way, plus considerations like spending money on transit, securing childcare, or taking time off work. "It's easy to lose track of how difficult it is," says Amy. "We have to work at least as hard as they are."


A NEW PLAYGROUND
"The message volunteering sends is really important. It's a spark of hope."
With support from Discover, Kaboom!, and the DuPage community, FSS of MFSD builds a playground for its shelter space
With Metropolitan CEO Ric Estrada and Discover CEO Roger Hochschild on mulch duty, a group of more than 200 community volunteers spent a day at FSS of MFSD's shelter building a playground. A space for healing through play, the playground will enable counselors to interact with their young clients in an environment full of slides and swings, where kids feel safer in opening up and feeling like kids again.
LEADERSHIP IN ACTION
» "There's nothing like sweating together for a good cause,"
said Roger, who sits on Metropolitan's Board of Directors. His commitment made an impact far beyond the mulch he shoveled:
"It's so empowering for clients who may feel alone to see these engaged leaders showing their hands-on support," says Rita Lopez Brosnan, Executive Director of Metropolitan DuPage. "It sends a message: all these organizations, all these people, value me."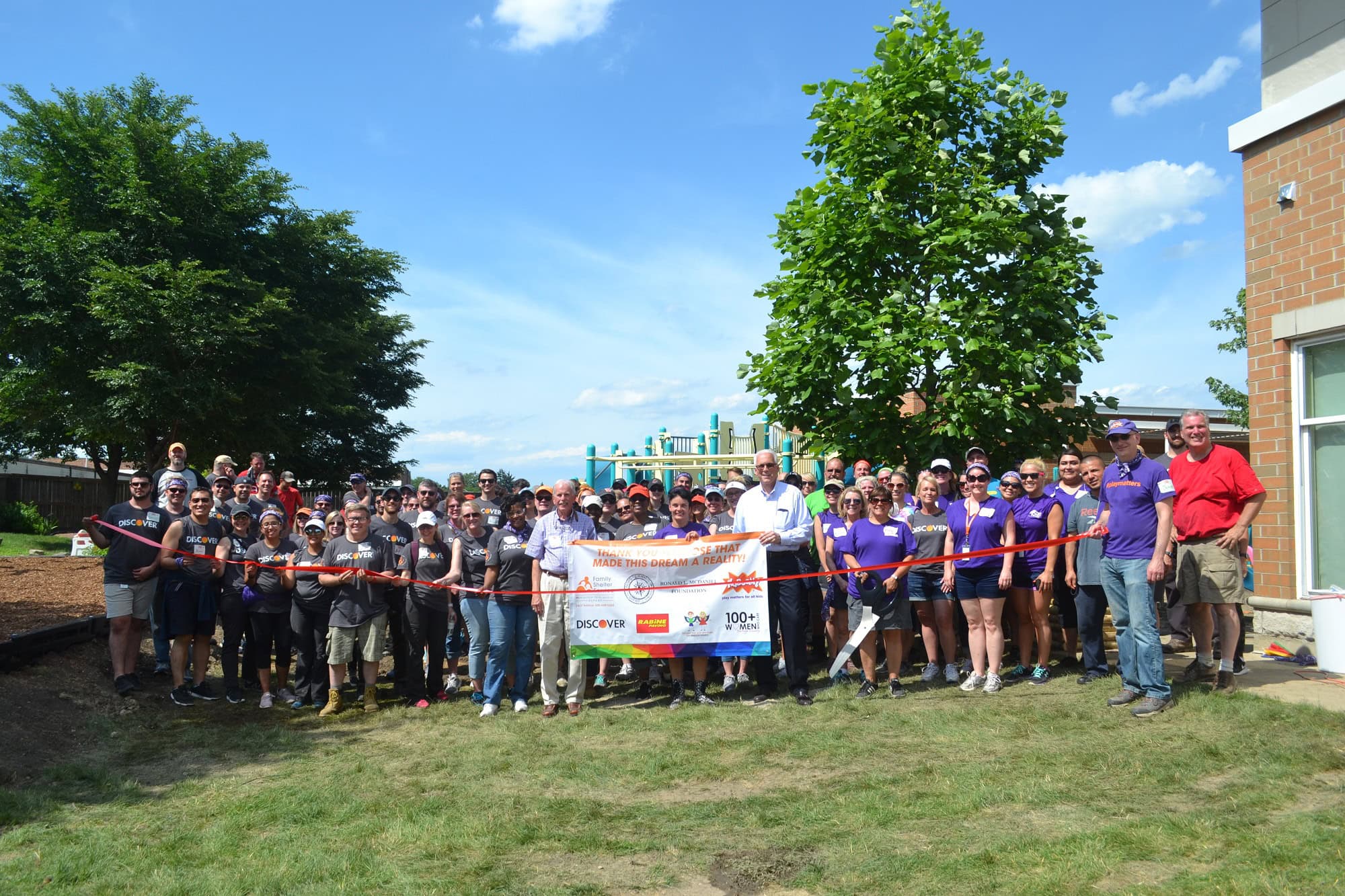 "This is a great example of what can happen when a community comes together, where it's a big financial institution like Discover, a national nonprofit like KaBoom!, paired with a local community here in DuPage like Family Shelter Service and Metropolitan. It makes for a beautiful day."
– Ric Estrada, Metropolitan CEO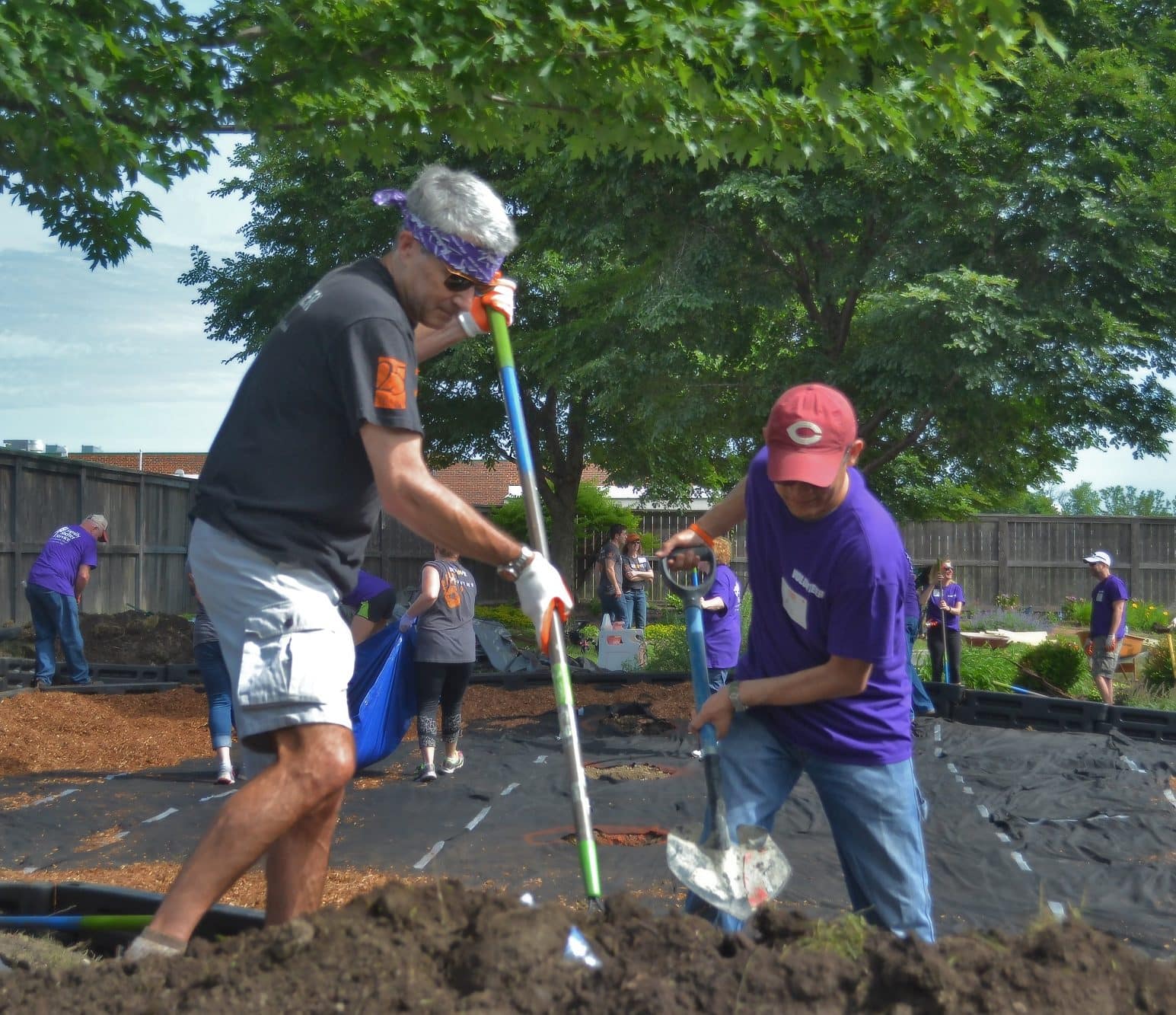 Metropolitan
Family
Services

---

Part mentor, part motivator, part advocate, since 1857 Metropolitan Family Services has been the engine of change that Mpowers families to reach their greatest potential and positively impact their communities.
---